Auction #1 Pipe Creek Cabin

You will have a chance to bid on this item until the day of the reunion on Saturday 5 May where final in person bidding will occur. No names will be posted but the highest bid will be posted. DO NOT bid if you do not intend to pay. Only Cash and Checks can be accepted at this time. Send your bids to: Michael DeLaTorre mrdsatx@yahoo.com
Make your checks payable to:
Douglas MacArthur Class of 1978 Reunion
Bidding on this item starts at $225, raises sre in $10 (or more) increments.
Value $650
Email stodd001@me.com or call (210) 240-8100 for reservations
One bedroom - King Loft, sofa bed, 1.5 baths, perfect for two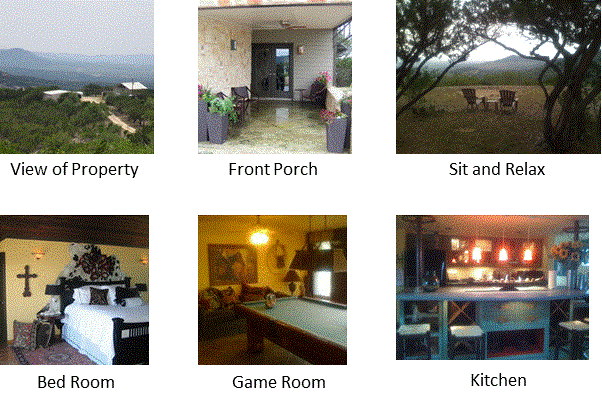 Newly renovated with luxury linens and furnishings, the library from a private collection, fully equipped kitchen. You can make arrangements made for services such as maid, driver, chef, or tour guide upon request. Fine cotton bed linens, 100% cotton towels, and comfortable surroundings ensure a relaxing environment. Pipe Creek Cabin is the perfect place for the person who wants to get away from it all. It is extremely private and perfect for the person who needs to finish that screenplay, book, project. Perfect for rest and recovery. Perfect for romance. There is no telephone, but there is strong AT&T cellular signal to service your cell phone or wireless internet card. There are satellite TV and an iPod dock. Set on top of a hill on 12 acres. There is a spectacular view of the Texas Hill Country. It is rural property, so it's highly recommended that you use an all-wheel drive or an SUV. The terrain approaching the cabin is steep and rough, but worth the drive. You will not want to leave once you get there, so bring whatever beverages and groceries you will need, park the car and relax.
You can get more information, see more pictures, read posts about the cabin, and book the cabin on Facebook at https://www.facebook.com/Pipecreekcabin/.